I'd like to extend a warm and hearty welcome on this chilly New Years Eve to Liz Jacobs, who's joining us on the Back Porch to talk about the characters in ABROAD.  Thanks for popping in Liz!
I asked Liz the following:  
Knowing that the Abroad duology is deeply personal to you and, to some degree, based on real-life experience, were there any aspects of the story or characters that took you by surprise and led the story in directions you didn't originally plan or foresee? If so, do you embrace character takeovers to see where they might lead, or do you fight them? Without getting spoilery, which story arc or character surprised you the most? What do you have to say to them about highjacking their scene(s) or storylines? Were they ultimately right, or did they need to be reined in?
This is really interesting to think about. The parts that were based on my own experiences (Nick, obviously) led the story exactly where it was headed. That had been pre-ordained, let's say, and not much surprised me. Dex also did not throw me for a loop – his story and the way it intertwined with Nick's was solid from the beginning and stayed that way throughout. The toughest part of writing them both was what I had expected – the nuance; the history. Nick was the most difficult to write because he was the most personal. I think there's a bit of a taboo on discussing how personal a character is, and partly, I understand that. Nobody wants to be accused of not knowing how to write an original character. But I've never made a secret of just how personal Nick's story is, and everything surrounding that – Russia in the news, its place in the current world, etc – made the book really tough to write. Dex was hard to write because I needed to get him right, and make sure it was a respectful portrayal of an experience I have no personal history with.
But the thing that completely ran away from me and stalled me out for weeks, if not months, was Izzy's story. She absolutely surprised me – first, with how prominent she would become in Abroad: Book One (so prominent, in fact, she begged for a voice of her own), and then with where her story went in Abroad: Book Two. Without getting into too much detail, or too many spoilers, it went…not where I had planned it to, at ALL. I was stalled out, having no idea how to make her storyline work. I was tearing my damn hair out. Something about it just felt completely impossible to me, and the weeks of trying to write and throwing scene after scene after scene out were ridiculous.
And then, I was driving to work one day, thinking about a recent scene I'd written, and it clicked. Izzy's story wasn't working because the story didn't fit Izzy. And that's when I let her lead me. I don't normally do that, but I absolutely believe that stories tell themselves sometimes. Once I had that crucial piece, it all fell into place. It's really remarkable how that works! When I first came up with her story – back when she was just a background character, a sort of foil to Dex – it seemed very easy and straightforward. Once she got her voice, though, it all went belly up. And it was exactly where it needed to go. Izzy's scenes became some of my absolute favorite – and easiest! – to write. That Izzy – she knows what she needs and what she wants.
So, there you have it – we are in control of our stories, until we are not. And not being able to write will always signal that something needs to change, that it hasn't clicked. When it clicks, though, that is the best feeling in the world.
---
About the Book
The heartwarming and romantic conclusion to the duology celebrated by Teen Vogue as "a nuanced and sexy take on growing up and learning to accept who you are."
Nick Melnikov has finally done it — he's come out.
To himself. To his sister. And to Dex, who listens, hears him, and understands. To Dex, who kisses him and shows him all that they could be, if Nick could only find the courage. It's one thing to let yourself be open thousands of miles away from your family, but exchange student Nick is uncomfortably aware that his time with Dex is running out. Who will he be when he goes home again?
Dex Cartwell is as happy with Nick as he's ever been, but he can't ignore the shadow of Nick's inevitable departure from London, back to his life in Michigan. Is it worth it for Dex to expose his heart to another doomed relationship with a predetermined expiration date? What does Dex really want for the beginning of the next chapter in his life, post-graduation?
Dex wants to turn to his best friend in the struggle to find a way forward, but Izzy Jones has her own problems. She's got one friend in love with her, and when she turns to another for help things get twice as complicated. Izzy never wanted complicated, but life just keeps getting in the way — and sweeping her off her feet.
Then Nick's mom and sister come for a visit, and he is forced to decide between living his truth and protecting himself from fear and change. It's going to take a lot of courage and a few leaps in the dark if Nick, Dex, and Izzy are to find a way to live and love on their own terms.
The Finer Details
Narrative Arc: Series
Series Detail: Abroad, book 2
Series Arc: ensemble of relationships
Publication Date: January 2, 2018
Publisher: Brain Mill Press
Cover: Design by Ampersand Book Design, Illustration by Megan J. Smith
Length: Novel, 425 e-book pages
POV: 3rd person, limited to 3 or more main characters
Tense: Past
Pairings: Male/Male, Female/Female, Male/Female
Identities: Gay, Demisexual, Bisexual, Transgender
Age Range(s): 18 to 21, 22 to 25
Genre(s): Contemporary, New Adult
Tropes and Tags: ensemble cast, sexual identity awakening, closeted, friends to lovers, virgin
Settings & Locales: London, England
Ending: HEA
Find and Buy
Add the book to your goodreads shelf.
---
About the Cover Artist:
Abroad: Book Two features the original work of artist Megan J. Smith of the Repeal Hyde Art Project.
Megan is an artist, activist, and social worker. They founded the Project in 2011 to raise awareness and create dialogue about the Hyde Amendment. Since then, they have collected 400 birds, created over 100 shareable graphics, and facilitated 30 university-based Repeal Hyde Art Project installations. Megan has also designed artwork and materials for numerous reproductive health and rights organizations. Megan is the recipient of the 2015 Arts and Healing Network Award for Arts and Social Change and on the Board of Directors for the Abortion Care Network. They reside in Boston with their partner and their 13 year-old cat, Boxer.
About the Author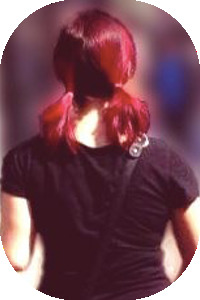 Liz Jacobs
came over with her family from Russia at the age of 11, as a Jewish refugee.  All in all, her life has gotten steadily better since that moment. They settled in an ultra-liberal haven in the middle of New York State, which sort of helped her with the whole "grappling with her sexuality" business. She has spent a lot of her time flitting from passion project to passion project, but writing remains her constant. She has flown planes, drawn, made jewelry, had an improbable internet encounter before it was cool, and successfully wooed the love of her life in a military-style campaign. She has been nominated for the Pushcart Prize for her essay on her family's experience with immigration. She currently lives with her wife in Massachusetts, splitting her time between her day job, writing, and watching a veritable boatload of British murder mysteries.
Connect:
Website |  Facebook | Twitter | Amazon | Goodreads
---
Thanks, readers for stopping in. Remember, Abroad, book 2 releases on January 2nd and is the perfect way to kick off the New Year. Swing back around tomorrow to check out my review!