About the Book:
The heartwarming and romantic conclusion to the duology celebrated by Teen Vogue as "a nuanced and sexy take on growing up and learning to accept who you are."
Nick Melnikov has finally done it — he's come out.
To himself. To his sister. And to Dex, who listens, hears him, and understands. To Dex, who kisses him and shows him all that they could be, if Nick could only find the courage. It's one thing to let yourself be open thousands of miles away from your family, but exchange student Nick is uncomfortably aware that his time with Dex is running out. Who will he be when he goes home again?
Dex Cartwell is as happy with Nick as he's ever been, but he can't ignore the shadow of Nick's inevitable departure from London, back to his life in Michigan. Is it worth it for Dex to expose his heart to another doomed relationship with a predetermined expiration date? What does Dex really want for the beginning of the next chapter in his life, post-graduation?
Dex wants to turn to his best friend in the struggle to find a way forward, but Izzy Jones has her own problems. She's got one friend in love with her, and when she turns to another for help things get twice as complicated. Izzy never wanted complicated, but life just keeps getting in the way — and sweeping her off her feet.
Then Nick's mom and sister come for a visit, and he is forced to decide between living his truth and protecting himself from fear and change. It's going to take a lot of courage and a few leaps in the dark if Nick, Dex, and Izzy are to find a way to live and love on their own terms.
The Finer Details
Narrative Arc: Series
Series Detail: Abroad, book 2
Series Arc: ensemble of relationships
Publication Date: January 2, 2018
Publisher: Brain Mill Press
Cover: Design by Ampersand Book Design, Illustration by Megan J. Smith
Length: Novel, 425 e-book pages
POV: 3rd person, limited to 3 or more main characters
Tense: Past
Pairings: Male/Male, Female/Female, Male/Female
Identities: Gay, Demisexual, Bisexual, Transgender
Age Range(s): 18 to 21, 22 to 25
Genre(s): Contemporary, New Adult
Tropes and Tags: ensemble cast, sexual identity awakening, closeted, friends to lovers, virgin
Settings & Locales: London, England
Ending: HEA
Find and Buy
Add the book to your goodreads shelf.
---
Advance Review Copy generously provided by the publisher.
---
Back Porch Thoughts
Review
The first book in the Abroad duology left us teetering on the mighty cliffhanger also known as OMG WHAT HAPPENS NEXT?! Where Nick and Dex are taking tentative steps into Relationshipville. Izzy is coming to terms with realizing her sexuality while the earth quakes beneath her feet since learning about a secret crush that has the power to rock a seriously good friendship.
Book two picks up just where we left off with morning afters and more questions begging to be answered as this crew of friends navigate college life, the path to the big-time of adulthood, and trusting in the ties that bind.
Nick, a Russian-American studying abroad in London, is angst incarnate and prone to anxiety attacks that bring him to his knees when faced with the idea of coming out to his mother. He's so in his head he can't bring himself to confide in his amazing set of friends, or Dex in these early days of being part of a couple. Which, as a forty-something, it's easy for me to want to shake him and tell him to talk to his people, these friends who effortlessly brought him into their fold and have surrounded him in safety and a soft place to land as he learns to accept himself. But it only takes me a few seconds of sifting back through my memories of old secrets and insecurities to get it — that fear of opening up. So instead of giving him a shake, I'd rather just hug him tight and tell him to breathe.
Dex, he comes across as one of the surest, self-aware characters with a clear-cut path to his future. He knows himself, knows what he wants, seems comfortable in his skin. But, here we get to see a little bit of a different side of him. A vulnerable spot where it comes to his feelings for Nick, wanting the approval and support from his family. He's nearly ripped open at the seams while he and Nick work to overcome obstacles with a deadline. Because even for those who think they've got both feet on the ground, know what's what, have a clear and determined picture of selfdom, the future, and their rock-solid friendships — it doesn't take much to turn certainty on its ear.
And Izzy. My oh my how I love this darling girl. In my review of book one, I wasn't wholly convinced we needed her story woven around Nick and Dex. To be sure, I wanted her story just…separate. Her own book perhaps. But while looking forward to book two, I found myself itching to get back to her, needing her journey as it was a little like looking in a mirror, one that had gotten sort of foggy over the passage time. She's just lovely and most definitely the story I needed twenty-some-odd years ago.
Even though Abroad takes place in this decade and in a specific place with very specific cultural elements, it also manages to be timeless and a tale that transcends borders. I loved every moment of this rollercoaster ride of emotions. I laughed, I cried, and my heart was in a clench for these characters. This book was everything, and the two books together are simply amazing.
Liz Jacobs has proven her writing chops, yet again, with gorgeous words of introspection and the emotional journeys that dig deep into all the uncertainties of early adulthood. This is profound and masterful. Utter perfection.
---
About the Author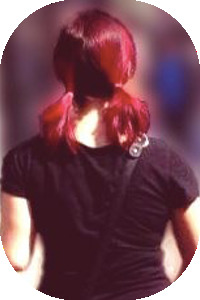 Liz Jacobs
came over with her family from Russia at the age of 11, as a Jewish refugee.  All in all, her life has gotten steadily better since that moment. They settled in an ultra-liberal haven in the middle of New York State, which sort of helped her with the whole "grappling with her sexuality" business. She has spent a lot of her time flitting from passion project to passion project, but writing remains her constant. She has flown planes, drawn, made jewelry, had an improbable internet encounter before it was cool, and successfully wooed the love of her life in a military-style campaign. She has been nominated for the Pushcart Prize for her essay on her family's experience with immigration. She currently lives with her wife in Massachusetts, splitting her time between her day job, writing, and watching a veritable boatload of British murder mysteries.
Connect:
Website |  Facebook | Twitter | Amazon | Goodreads
About the Cover Artist:
Abroad: Book Two features the original work of artist Megan J. Smith of the Repeal Hyde Art Project.
Megan is an artist, activist, and social worker. They founded the Project in 2011 to raise awareness and create dialogue about the Hyde Amendment. Since then, they have collected 400 birds, created over 100 shareable graphics, and facilitated 30 university-based Repeal Hyde Art Project installations. Megan has also designed artwork and materials for numerous reproductive health and rights organizations. Megan is the recipient of the 2015 Arts and Healing Network Award for Arts and Social Change and on the Board of Directors for the Abortion Care Network. They reside in Boston with their partner and their 13 year-old cat, Boxer.
---
ONE LAST THING before you go! Liz Jacobs popped in yesterday with a guest post — you can check it out here.
Thank you so much for visiting Back Porch Reader. I wish you all a fantastic 2018!