About the Book
Nick Melnikov doesn't know where he belongs. He was just a kid when his Russian-Jewish family immigrated to Michigan. Now he's in London for university, overwhelmed by unexpected memories. Socially anxious, intensely private, and closeted, Nick doesn't expect to fall in so quickly with a tight-knit group of students from his college, and it's both exhilarating and scary. Hanging out with them is a roller coaster of serious awkward and incredible longing, especially when the most intimidating of the group, Dex, looks his way.
Dex Cartwell knows exactly who he is: a black queer guy who doesn't give a toss what anybody thinks of him. He is absolutely, one-hundred-percent, totally in control of his life. Apart, maybe, from the stress of his family's abrupt move to an affluent, largely white town. And worrying about his younger brother feeling increasingly isolated as a result. And the persistent broken heart he's been nursing for a while . . .
When Nick and Dex meet, both find themselves intrigued. Countless late-night conversations only sharpen their attraction. But the last thing Nick wants is to face his deepest secret, and the last thing Dex needs is another heartache. Dex has had to fight too hard for his right to be where he is. Nick isn't even sure where he's from. So how can either of them tell where this is going?
The Finer Details
Publication Date:  June 27, 2017
Publisher:  Brain Mill Press
Cover Artist:  Megan J. Smith / Ampersand Book Covers
Arc:  Series:  Abroad, book 1
Length:  Novel, 372 e-book pages
POV:  3rd Person, Limited Omniscient
Tense:  Past
Pairing:  Male/Male
Identity:  Gay 
Age Range(s): 18-21
Genre(s): Contemporary, New Adult
Tropes & Tags: closeted, ensemble cast, fish out of water, found family, opposites attract
Setting/Locale: London, England
---
Exclusive Excerpt:
Dex diced and then sautéed his veg. Nick looked into the saucepan curiously.
"You know," he said after Dex threw in his rosemary and narrated his aromatics are the key to every good sauce bit, "Cooking has always seemed like magic."
"Magic?" His own approach had always been on the side of culinary science. "Magic in what way?"
Nick shrugged again. "I could never quite figure out how all these disparate ingredients could make up a whole like this. I guess it's stupid."
Dex watched him and waited. After a long moment, Nick continued.
"It's just that I was never part of the process, you know?" A brief glance up at Dex, then down again. "And my mom is a really good cook. So it just never made sense to me how someone, I don't know, even makes a broth or a stock or whatever, even though she does it all the time."
Dex reached for the mince slowly. "I think I get it." Trust dreamy historian Nick to believe there was magic in a simple Bolognese. Dex felt as if his bones were dissolving on the spot and had to brace himself on the counter for a moment. The mixture of rosemary and basil wafted up between them in a slow sensory takeover. "Cooking has always calmed me," he said quietly. "It's so methodical, and it makes sense, but it's not just that, I guess." Nick was watching Dex almost without blinking. His messy eyebrows were drawn together. Preternaturally serious. Dex swallowed. "It's soothing, and maybe there is a bit of magic in that."
The room was so quiet that Dex nearly jumped when the door creaked open and a stocky white boy walked in.
Nick moved away from Dex as fast as if he'd been burnt. "Oh hey, Jack." He sounded breathless. Dex felt it in his toes.
"'Sup." Jack made a beeline directly for the fridge. Dex willed his heart to calm back down and waited until Jack the Interloper had gone before he showed Nick the next step.
Nick consented to give stirring the mince a go. Dex felt an absurd relief at that. Something about it made the distinction between a cooking lesson and Dex cooking for Nick, which had too much of a date whiff about it.
His earlier reticence notwithstanding, Nick looked comfortable enough at the hob. Despite his every misgiving, Dex felt his pulse flutter every time Nick swayed into his orbit, smelling like aftershave and just a bit of sweat. He'd missed a spot shaving at the dip of his jaw. Steam wet Nick's curly fringe, and Dex had to beat a hasty retreat, nominally to start the process of boiling the pasta.
Truly, he had never sweated as much over spag bol, not even the first time he'd made it at fourteen years old.
---
Here's Another Excerpt!
Nick didn't feel better in the morning. At three am, his anxiety had been a shapeless thing, with weight and texture but part of dreams, too. A sort of terrifying unreality he had to breathe through.
At eight am, as his alarm shrieked at him to wake the fuck up, the shapeless, textured thing coalesced into something more terrifying than the nightly ghosts. If, at ten years old, he'd been aware that being unable to answer the kids on the bus who asked him why his teeth looked the way they did would someday end, at twenty, he knew better.
He wanted men. He hadn't really wanted Lena, in all the years they'd been together. He hadn't really wanted Ashley during sophomore year when they'd kissed in the art classroom, her hair tickling his palms where his hands had trembled on her shoulders, and later humped fruitlessly in her sunroom, sweaty and shaky and half-hard.
He wanted Dex. Of all people, of all the people he had met, he wanted him so much, his hands ached with it. Nick was past denying anything. All he knew now was the whine in his chest that told him truth frightened more than denial.
---
Quotes from the author about the book: 
ABROAD is a story of struggle, love, identity, fear, family, and friendship. It's about finding your people. It's a story of how our cultures can define, constrict, and, ultimately, free us. It's a story of immigration and its fallout, of confusion and clashes and how help can come from the most unexpected places. It's the story I have always wanted to tell, ever since I was a confused, frightened immigrant kid with no recourse but to adapt to unfamiliar surroundings or sink. In many ways, while fictionalized and quite altered, this is my story.
---
Purchase Links
Brain Mill Press | Amazon US
Add the book to your goodreads shelf.
---
About The Author: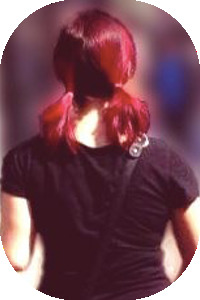 Liz Jacobs came over with her family from Russia at the age of 11, as a Jewish refugee.  All in all, her life has gotten steadily better since that moment. They settled in an ultra-liberal haven in the middle of New York State, which sort of helped her with the whole "grappling with her sexuality" business.
She has spent a lot of her time flitting from passion project to passion project, but writing remains her constant. She has flown planes, drawn, made jewelry, had an improbable internet encounter before it was cool, and successfully wooed the love of her life in a military-style campaign. She has been nominated for the Pushcart Prize for her essay on her family's experience with immigration.
She currently lives with her wife in Massachusetts, splitting her time between her day job, writing, and watching a veritable boatload of British murder mysteries.
Connect:
Website |  Facebook | Twitter | Amazon | Goodreads
---
Back Porch Reader Review posting on Release Day!